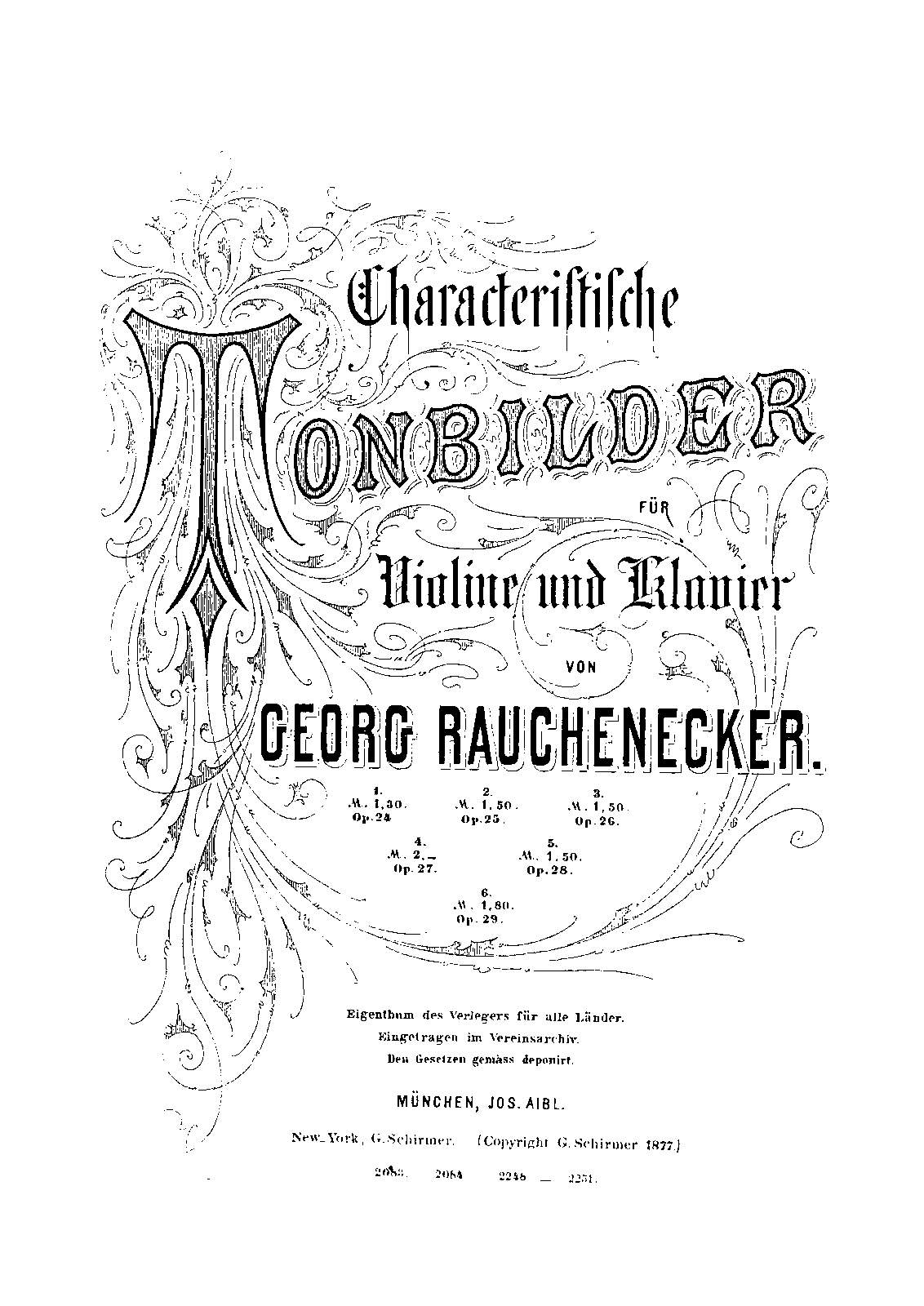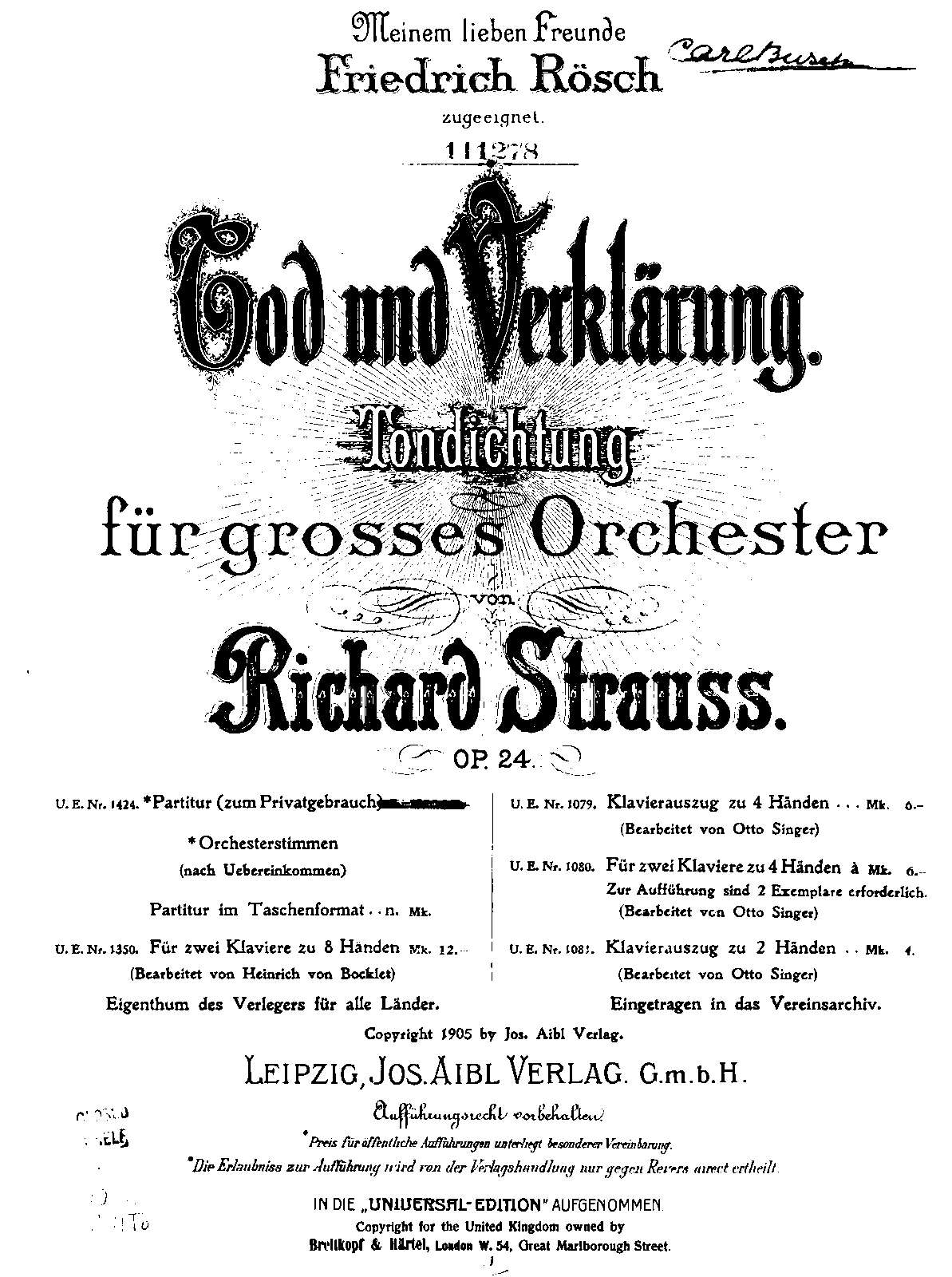 History
Joseph Aibl (1802-1834), a lithographer who had studied with Theobald Boehm, worked as a musician and music editor (Lithograph mit einer Musikalienhandlung) in Bern between 1819 and 1825. In 1825 he founded a branch in Munich. At that time, the firm also sold instruments. Upon his death in 1834, his widow took over management of the company. The firm's management again changed hands in 1837, this time to Eduard Spitzweg (1811-1884). His son Eugen (1840-1914) acquired the smaller Munich publishers Falter & Sohn (1888) and Alfred Läuterer (1892) but ultimately sold the firm to Universal Edition in 1904. Composers published by the Aibl firm include Theobald Boehm, Hans von Bülow, Peter Cornelius, Josef Gabriel Rheinberger, Alexander Ritter, Max Reger, and Richard Strauss.
(A notice in Hofmeisters Monatsbericht, 1904, p.182, under Verlags-Veränderungen: "Aibl-Verlag, Jos., in München, jetzt: Universal-Edition in Wien.")
Editions
Imprints, Addresses, Agencies
Imprints
Bern: 1819-1825
Musikalien- und Instrumenten-Handlung und Leih-Anstalt
Jos. Aibl
Jos. Aibl Verlag
Joseph Aibl
Plate Numbers
Some plates have a prefix of "R." which might identify it as an engraving by Röder. Some plates have a prefix of "G." which might identify it as an engraving by Brandstetter (formerly Garbrecht).
| Plate | Composer | Work | Year |
| --- | --- | --- | --- |
| | Eichheim, Carl Theodor | Deutsche Messe | 1842 |
| | Heydenreich, Christian | Der 130. Psalm : im Style früherer Zeit | 1843 |
| | Lacombe | L'aurore, Op.22 | 1847 |
| | Urban | Caprice-Fantaisie | 1851 |
| | Urban | 2 Lieder ohne Worte | 1851 |
| | Goria | Le papillon, Op.1 | 1852 |
| 1066 | Kontski | Toujours seul, Op.57 | 1852 |
| 1068 | Kontski | Sans espoir, Op.55 | 1852 |
| 1069 | Kontski | Impressions de voyage, Op.83 (No.1) | 1852 |
| 1072 | Goria | Étude de concert No.1, Op.7 | 1852 |
| 1073 | Goria & Kontski | Album pour le piano 1852 | 1852 |
| 1211 | Kolb | Festmarsch, Op.9 | 1853 |
| 1325 | Blumschein | La fontaine, Op.3 | 1856 |
| 1370 | Blumschein | Ma favorite, Op.4 | 1856 |
| 1371 | Blumschein | Le soir a la campagne, Op.5 | 1856 |
| 1372 | Blumschein | Doux pressentiment, Op.6 | 1856 |
| 1373 | Blumschein | Un peu fâché, Op.7 | 1856 |
| 1374 | Blumschein | L'Heure des sylphes, Op.8 | 1857 |
| 1376 | Blumschein | Le moment d'extase, Op.9 | 1856 |
| 1380 | Blumschein | Un songe doré, Op.10 | 1857 |
| 1381 | Blumschein | Mon plaisir, Op.11 | 1857 |
| 1392 | Blumschein | La clochette de l'eremitage, Op.12 | 1857 |
| 1397 | Blumschein | Salut à Schaffouse, Op.13 | 1858 |
| 1400 | Kontski | Ne m'oubliez pas, Op.152 | 1858 |
| 1401 | Kontski | Myosotis | 1858 |
| 1466 | Blumschein | Fleurette, Op.14 | 1859 |
| 1657 | Blumschein | Nocturne, Op.22 | 1864 |
| 1662 | Blumschein | Galop-volant, Op.25 | 1864 |
| 1770 | Behr | Rose d'amour, Op.60 | 1866 |
| 2083 | Rauchenecker | Charakteristische Tonbilder, Opp.24-29 (op.24) | 1873 |
| 2084 | Rauchenecker | Charakteristische Tonbilder, Opp.24-29 (op.25) | 1873 |
| 2089 | Buonamici | 2 Sacred Choruses, Op.3 | 1873 |
| 2248 | Rauchenecker | Charakteristische Tonbilder, Opp.24-29 (op.26) | 1877 |
| 2249 | Rauchenecker | Charakteristische Tonbilder, Opp.24-29 (op.27) | 1877 |
| 2250 | Rauchenecker | Charakteristische Tonbilder, Opp.24-29 (op.28) | 1877 |
| 2251 | Rauchenecker | Charakteristische Tonbilder, Opp.24-29 (op.29) | 1877 |
| 2259 | Bronsart von Schellendorff | Piano Trio, Op.1 | 1877 |
| 2279 | Kistler | Festmarsch No.1, Op.41 (pf4h arrangement) | 1877 |
| 2282 | Kistler | 4 Lieder, Op.20 | 1878 |
| 2283 | Kistler | 3 Lieder, Op.30 | 1878 |
| 2284 | Kistler | 3 Lieder, Op.33 | 1878 |
| 2285 | Kistler | Abendläuten, Op.22 | 1878 |
| 2292 | Bülow | Lacerta, Op.27 (2nd edition) | 1880 |
| 2293 | Kistler | 3 Lieder, Op.14 | 1878 |
| 2295 | Kistler | 4 Lieder, Op.25 | 1878 |
| 2296 | Kistler | 3 Männerchöre, Op.34 | 1878 |
| 2313 | Kistler | 3 Männerchöre, Op.42 | 1878 |
| 2328 | Wolfrum | Organ Sonata No.1, Op.1 | 1879 |
| 2478c | Wolfrum | 2 Gesänge, Op.11 (no.1 arr. for organ) | 1882 |
| 2479c | Wolfrum | 2 Gesänge, Op.11 (no.2 arr. for organ) | 1882 |
| 2482 | Wolfrum | Organ Sonata No.2, Op.10 | 1882 |
| 2498 | Wolfrum | Organ Sonata No.3, Op.14 | 1882 |
| 2511 | Wolfrum | 6 Lieder von Goethe, Op.16 | 1884 |
| 2536 | Werner | Cello Quartet, Op.6 (parts) | 1884 |
| 2541 | Wolfrum | Lieder und Gesänge, Op.18 | 1885 |
| 2645 | Wilm | Violin Sonata No.1, Op.83 | 1890 |
| 2674 | Ritter | Wem die Krone? (v.s.) | 1891 |
| 2676 | Strauss | Tod und Verklärung, Op.24 (full score) | 1891 |
| 2678 | Strauss | Tod und Verklärung, Op.24 (arr. for piano 4 hands by Singer) | 1891 |
| 2679 | Strauss | Tod und Verklärung, Op.24 (arr. for 2 pianos by Singer) | 1896 |
| 2690 | Strauss | Macbeth, Op.23 (arr. piano 4 hands by Thuille) | 1892 |
| 2738 | Wilm | Cello Sonata, Op.111 | 1893 |
| 2793 | Pembaur | Organ Sonata, Op.51 | 1893 |
| 2843 | Strauss | Macbeth, Op.23 (arr. 2 pianos by Singer) | 1896 |
| 2899–2900 | Weber | Violin Concerto in G minor (piano red./vln. pt.) | 1899 |
| 2948 | Reger | 8 Ausgewählte Volkslieder | 1899 |
| 2952 | Reger | Violin Sonata No.3, Op.41 | 1900 |
| 2975 | Reger | 6 Intermezzi for Piano, Op.45 | 1900 |
| 2992 | Lazarus | Piano Trio, Op.55 | 1901 |
| 3005 | Reger | Der evangelische Kirchenchor | 1901 |
| 3013 | Bach | Toccata in D minor, BWV 913 (Transc. by Reger) | 1902 |
| Plate # | Full Plate | Composer | Work | IMSLP # | Full Year | Year |
| --- | --- | --- | --- | --- | --- | --- |
Catalogues
Authority Control
VIAF (Aibl, Joseph 1802-1834)
VIAF (Jos. Aibl (München))
Links